Hi, kids. I'm still here. Life is happening. And we love life when it happens.
Les Miserables opened at my Kids' high school last night.
Remember that my Kid 1 played Eponine, the world's best role for a teenage girl?[1] It was awesome. (Unless you didn't wanted to hear the orchestra director counting through his microphone, or unless you minded the 7-year-old kid running full-voice commentary in the seat behind me: "IS SHE DEAD? DID HE JUST SHOOT THAT KID? IS THAT HIS REAL HAIR? DID SHE DIE, TOO?" or unless you wanted all the actors' mics to work all the time, or unless you noticed many technical thingies which did NOT include my Kid 1's mic being turned on for all but one of her entrances, hooray.) It was lovely and stirring and heart-touching. Kid 1's Uncle A said, "I have never shed a tear at a high school musical before today." And she was pleased by that. And he was not the only one teary, by a long, long shot.
Her Uncle N and Aunt C brought flowers from Grandma and Grandpa who can't make it, and they were beautiful. So were the flowers. And Aunt C told Kid 1 she didn't actually buy the "boy costume" bit, because Kid 1 was just too pretty. [1.5]
Considering the rival football game happening 20 minutes away, there was a pretty good crowd. And considering that I only managed to oversell about 10 premier seats [2] and anger 6 patrons, it was a glad crowd.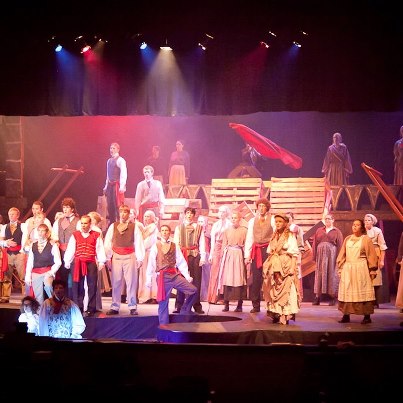 I got to teach lots of days this week. Including a day in Kid 3's sixth grade class. I love Kid 3's sixth grade class. And here's one tiny reason why: She has a small part in the above-mentioned show: she plays Little Eponine, who doesn't have a line and sands on stage in a"little blue hat" for about 30 seconds. She couldn't possibly be more thrilled. [3] As I was standing in the lobby before the show, 3 of her classmates ran over and gave hugs and said how happy they were to come and see her debut. And then I saw more of them, with parents, who came, too. Maybe there were more who I didn't see. But Izzy and Kenadee and Wyatt and Claire and Abe, you guys are awesome.
There is more life happening. Stay tuned and stuff.
—
[1] Whatever. Any girl. I'd take the role in a single heartbeat. If only.
[1.5] Eponine dresses as a boy to deliver the letter written by the boy she loves to the girl he loves. Just go see it, okay?
[2] I'm Box Office Mama and the buck, as they say, stops here.
[3] I was working the box office one day this afternoon while they were rehearsing, and Kid 3 came to slide a mini Kit-Kat through the window. I asked her where she got it. "Pretty much the whole cast thinks I'm adorable, and they keep giving me candy," she said with a shrug. Life is SO good.
Also, as a note, all these kids have had their parents sign an image release, so I'm all legal to post their photos. So here are some more.