Here's a transcription of the conversation between the boy and me, written on notebook paper during church today. He's nine, remember?
Boy: Mom, For this halloween I want to get a black morph suit and put my Batman shirt over it and make a mask. I could break off plastic spoon tops and put them on my [seriously indecipherable word, possibly waist, possibly mouth, possibly wrist — the spoons are no kind of clue] and paint them black. (Please respond.)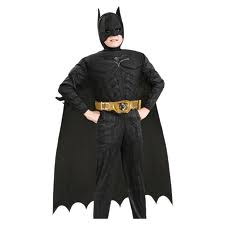 Me: That's an exciting idea… But I've already purchased your Halloween costume. It's a perfect replica of Papa Smurf. (Please respond.)

Him: I don't want to be Papa Smurf. (By the way, I'm asking you because Dad wouldn't want me to have a morph suit. He thinks I will commit a crime.) (Please respond.)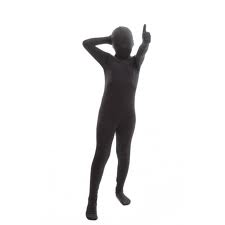 Me: But you look so lovely in light blue.
With a white beard.
Let's keep talking about this. I'm pretty sure I can bring you around to my way of thinking. Papa Smurf! Papa Smurf! Papa Smurf! (P.S. I know. Morph suits = life of crime.) Love, Mommy.
Him: Pleeeeeeeeeeeeeeeeaaaaaaaaaaaaaaaasssssssssssssssse? (Pleeeeease respond.)
Me: Papa Smurf! It's Smurf-tastic! It's Smurf-errific! It's Smurf-tabulous! GOOOOOOO, Papa! (Drawing of signs: We <3 Papa, Papa is Smurfy, Who's your Papa? Papa is #1!)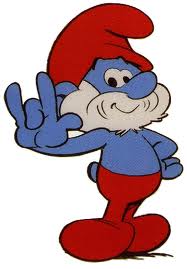 Him: I can't pull off a beard.
Me: Oh, I SO disagree. You're SMURFY in a beard.
(At this point, he goes back to the above and changes it to this: I can't WON'T pull off a beard.)
Him: What do I have to do to get you to give in?
Me: Dude. Do you know me at all? I. Do. Not. Bargain. Love, Mommy.
Him: (Last Word Kid) Oh, but you do. OH, BUT YOU WILL.