Here's another book I just read. For your review pleasure. BECOMING BAYLEY by Susan Auten. (*DISCLAIMER* I know Susan. We're internet friends who met to be Actual friends. But even if we weren't, I would have liked this book. Ready? Go.)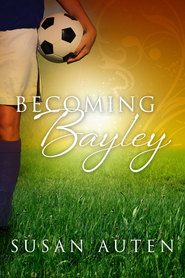 Here's the Deseret Book write-up:
Bayley Albrecht's dream is to play soccer on BYU's South Field. When she is invited to soccer camp the summer before her senior year in high school, she just knows she's one step closer to her dream. Things get even better when she meets Matt Macauley, the star of the men's soccer team. When they decide to write each other while Matt is on his mission, Bayley figures her life can't get any better. But it certainly can get worse . . .

After she receives a minor concussion from playing soccer, Bayley discovers she had a disease called alopecia which causes her to lose her hair. As Bayley struggles to deal with the reality of her baldness she finds herself having to make some tough decisions. Can she still play soccer? Does she even want to? More importantly, should she tell Matt? And will he still want her when she does? Becoming Bayley is the story of one girl's journey through self-discovery, of the definition of true love, and of the realization that as a daughter of God, she is of infinite worth.
I have a friend with Alopecia, and it's really pretty horrible. She can usually hide the (occasional) circles of baldness under her other hair, but it's certainly not a pleasant thing. When I started reading Becoming Bayley, I wondered if sympathy for the illness would make me connect with Bayley — a character completely unlike myself. But it wasn't that. It was just some really fun writing. Okay, and the illness, too. And the dynamic with her younger sister. And her great roommate. And the boy. Oh, the boy. The relationship between Matt and Bayley is nothing like any reality I ever lived, but everything like I used to dream about.
Also his mom is a witch.
(Note: Matt's mom is not an actual witch. BB is realistic fiction and does not include witchcraft. Please don't write angry letters to Deseret Book or to Susan Auten. I was just trying to be clever.)
What I liked: People make mistakes. People have weaknesses. People do mean things. Also, people rise above, people discover their inner generosity, and people forgive the dumb stuff. Also the dialog is fun. There is laughing and crying and soccer. And soccer legs. And reading about a super confident girl who suddenly finds herself without a shred of confidence is oddly opposite of every experience I ever had dating, wherein I would be the utterly non-confident girl who would find myself … still without a shred of confidence. And so, it's a peek into another kind of mind. And even though there were moments when it felt like an adult was telling the story, mostly it was a great journey into/onto Bayley's head, metaphorically and a little bit literally. (Please, Lord, if you are listening right now, I'm going to repeat my oft-repeated prayer: Even though it's not great, this is the best hair I've got. Please don't take it away from me. Amen.)
This is LDS fiction, which I don't often read, because sometimes it crams stuff down your throat that should be delivered in a quiet, small way, you get me? But this is well done, and I'm glad I got to read it. Thank you, Susan. Now passing this one on to my girls.