***UPDATED***
We have a winner. Congratulations, HEIDI.
(Fear not. More swag to come. All. Month. Long.)
***–***
Good morning, everyone. It is single-digit cold around here, so I'm bringing you something to warm your sweet little hearts. Introducing, my Sarah. My Sarah is actually my brother's Sarah, but I like her, too. And look what she has brought along for us today:
Sarah, take it. (My comments in italics, just so you know which of us is Sincere and which of us is ME.)
I love using felt to create unexpected things, like this little happy heart pin! So, here's my quick little tutorial for the felt happy heart pin project — I'm sure you'll love it! 😉 (Okay, really? I'm already happy. I mean, LOOK at it.)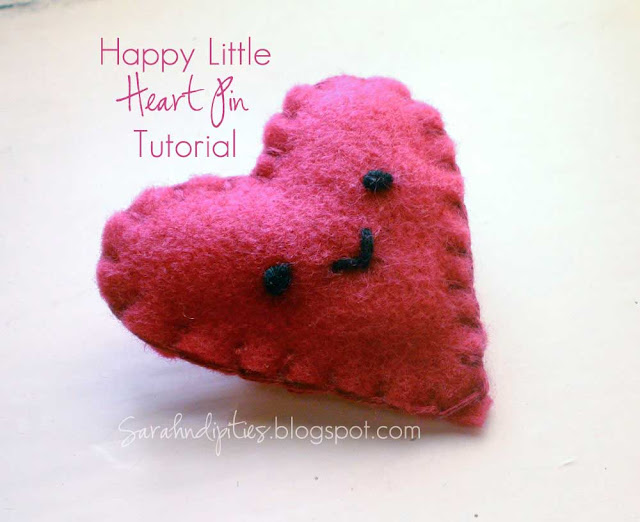 Here's what you'll need: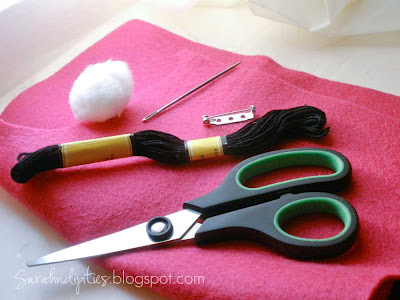 Scrap of felt — whatever color you'd like (mine is hot pink!)
Embroidery floss to match (not shown) and in black
Scissors
Needle
Pin back
Cotton Ball (Okay, here's the one thing on this list that I actually have on hand. Maybe, maybe I could find a pair of scissors if I went looking under beds.)
First you fold your felt in half and cut out a heart shape, about 1.5″ wide and tall. You can use a template if you'd like, but I just free-handed mine! (You do NOT want to see what happens when I try to freehand a heart. Trust me.)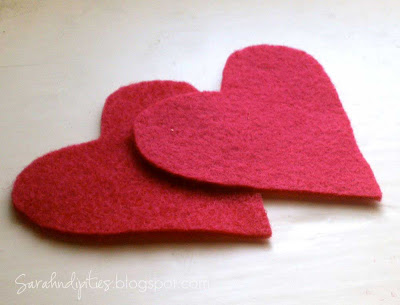 Next, sew the pin back on to one of the hearts.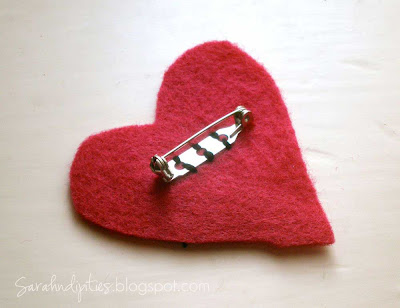 Embroider a happy little face on the other heart using the black thread. I used two french knots for the eyes and a V-stitch for the mouth. (French knots. How European and Beyond Me.)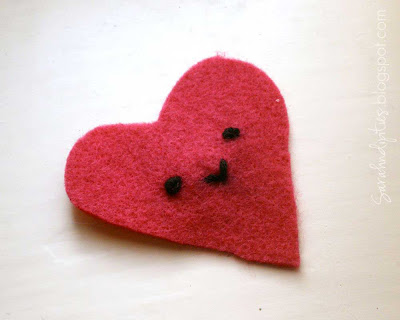 Next, put the two hearts together with the right sides facing OUT. Using the matching floss, sew the hearts together using a blanket stitch… make sure you leave a little opening to stuff the heart before finishing it up! (I pulled the cotton ball apart and stuffed the heart with the little bits.) (See, guys, this is why we keep Sarah around. She knows things like Blanket Stitches and Right Side Out.)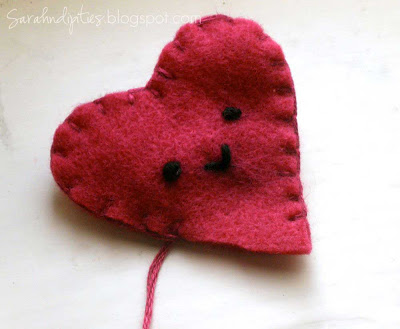 Sew up the rest of the heart, fasten off the thread and pull it through the back, trimming if needed.
Ta-Dah!!
(I know, right? How cute is that?)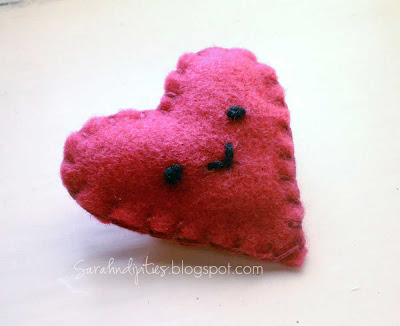 Wear your happy little heart on your sleeve with pride… or give it to someone special! 😉 (And because she's modest and humble, Sarah didn't show her whole self. But guys, doesn't she have the prettiest mouth? She's so lovely, Sigh.)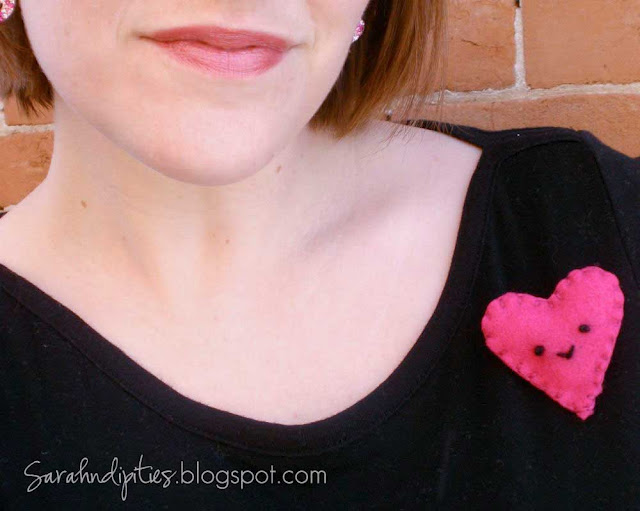 (Look. A signature. I gotta get me one of those.)
OKAY. Me again. On to the PRIZE portion of our post. Remember these? The beautiful handpainted cards? Want them? Do you? I do. But I'm somehow ineligible to win the prizes I'm giving away. Or something. Whatever. You can win them! You can! If you have an address in the USA or Canada. Leave a comment. Cross your fingers for luck. Then on Friday night I'll do the random-winner business, and on Saturday I'll let you know who you are. If you already know who you are, you're way, way ahead of the game.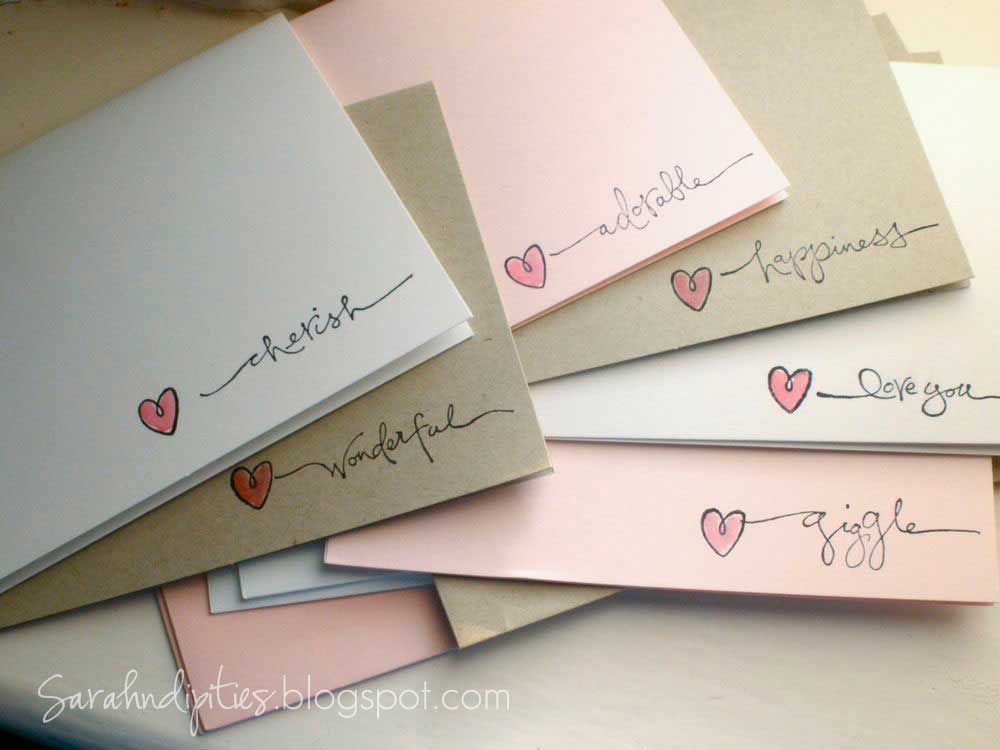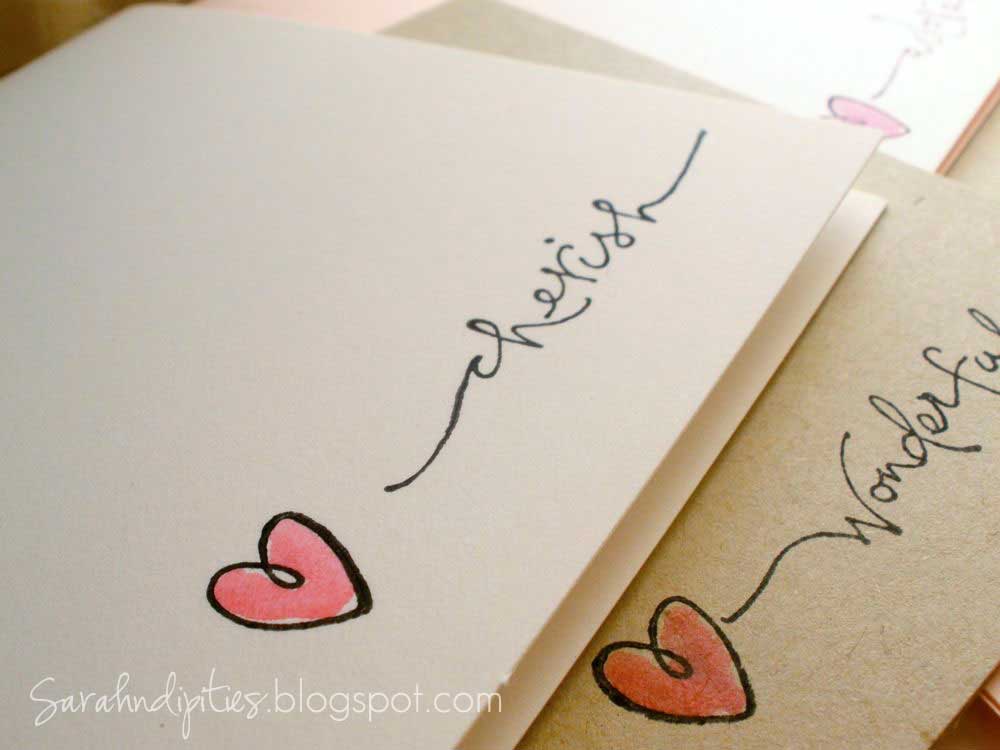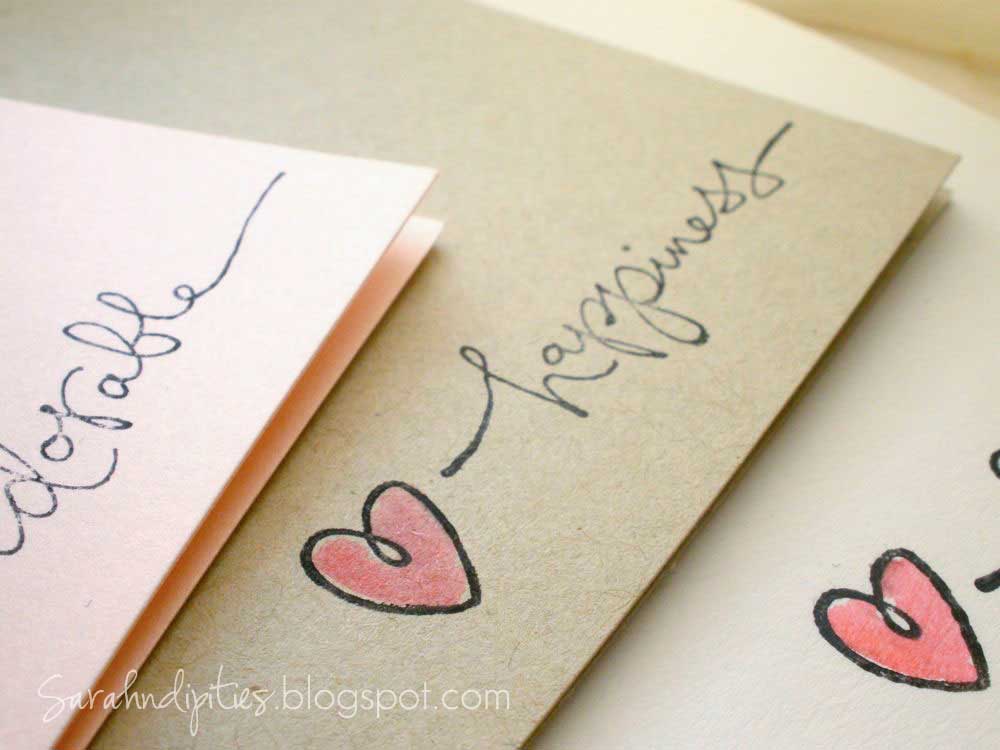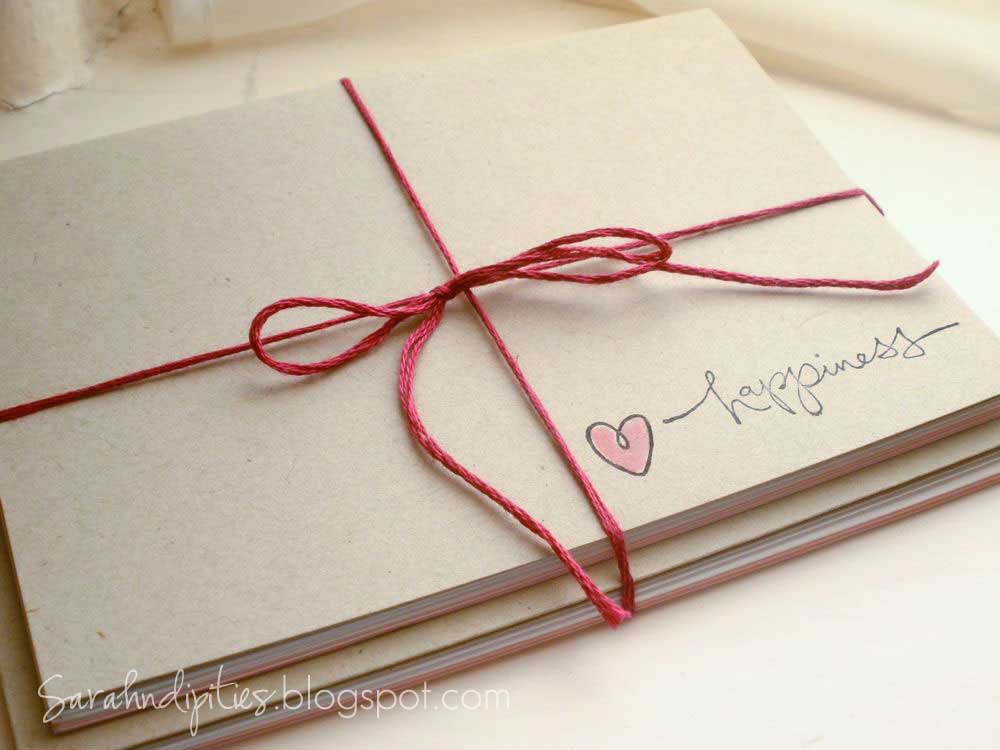 Thank you, Sarah, for the adorable guest post. Thank you for sharing one or two or three of your copious talents. Want more Sarah? Stop by her blog or her etsy shop any time. She's left the light on for you.